Wellingborough Glamis Hall centre could get £250,000 grant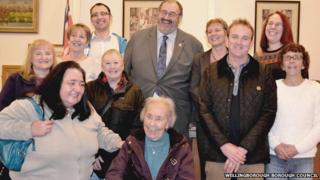 A popular day centre for older people in Northamptonshire destined to close at the end of the year has been offered a lifeline to stay open.
Wellingborough Council resources committee has voted to transfer Glamis Hall to a campaigning community group.
Glamis Hall for All raised a 10,000 signature petition to save the centre.
The group could now receive a £250,000 grant to refurbish the building if the full council agrees their takeover deal at a meeting on 9 December.
The delighted campaigners said £50,000 had been raised to tide the group over its first few months.
They were also planning to apply for external funding.
Covenants are to be included in the formal agreement document to ensure that Glamis Hall remains a building exclusively for community use.
About 180 people use the facilities regularly but the borough council decided in June the 40-year-old building was no longer fit for purpose and needed extensive refurbishment.
It was deemed too expensive to run and had been supported on discretionary funding no longer available.
Refurbishment work
The council decided to close Glamis Hall at the end of the year sparking a protests from users, their carers and community groups.
The Glamis Hall for All campaign group was set up in response and presented a business plan to take over the building and run it as a community amenity.
Group chairman Heather Saunders said after Wednesday's meeting they had lots of hopes and plans for its future.
If approved, Glamis Hall for All will be able to access the building from the New Year to start refurbishment work while terms of the transfer are negotiated and finalised, the council said.