Kettering Hospital 'almost safe' but needs further improvements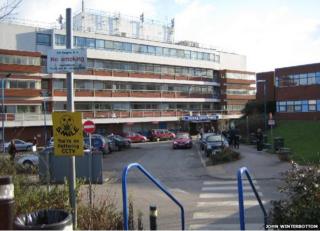 A hospital rated as "potentially high risk" four months ago still needs further improvement, inspectors have found.
The Care Quality Commission (CQC) inspection at Kettering Hospital found issues around accident and emergency (A&E), critical care and surgery.
The commission's Fiona Allison said the hospital was "improving" and its service was "almost safe".
A previous CQC report in July had rated it as 'potentially high risk'.
The inspection, which took place on 3 and 4 September, found core services such as A&E, medical care including older people's care, critical care and surgery needed "improvement".
'Could be improved'
The same rating was given for whether services were safe, effective, well-led and responsive.
The CQC said staffing levels in surgery and critical care units, infection control measures and the safety of medication needed to be reviewed.
The children and young people's service was the only core service rated as good, although the NHS trust was also rated as good with regard to whether services were caring.
Ms Allinson, head of hospital inspection, said: "I do not think patients need to be worried about going to Kettering General. The service is almost safe.
"There are things which could be improved, but essentially services are safe."
CQC chief inspector of hospitals, Sir Mike Richards, said the hospital had given assurances it was making the required improvements.
David Sissling, the hospital's chief executive, said he was pleased the report had highlighted the caring attitude of staff.
He said the hospital was committed to addressing the areas highlighted for further improvement.