Truncheon and handcuffs belonging to Jack the Ripper PC up for auction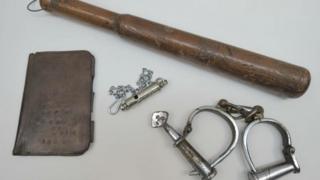 Antiques used by a policeman who found the mutilated body of Jack the Ripper's fourth victim are set to be auctioned.
A notebook cover, truncheon, whistle and handcuffs which belonged to PC Edward Watkins will go on sale at JP Humbert Auctioneers in Towcester.
PC Watkins discovered Catherine Eddowes body on 29 September 1888 while patrolling his beat.
The four items, to be offered independently, are expected to fetch £500 to £800 each.
The City of London Police notebook cover is stamped with PC Watkins' number.
The items have come from a private collector who has had them in family possession for more than three generations. The vendor's grandfather purchased the items directly from the Watkins family.
PC Watkins came on duty to patrol the Mitre Street area of London at 21:45 GMT on Saturday, 29 September 1888.
'London slums'
He walked his beat from 22:00 until he discovered Eddowes' body in Mitre Square at 01:44. He had passed through the same area just 14 minutes earlier.
Attacks ascribed to Jack the Ripper, who operated in Whitechapel in 1888, typically involved female prostitutes who lived and worked in the slums of London and whose throats were cut prior to abdominal mutilations.
He is said to have murdered Mary Ann Nichols, Annie Chapman, Elizabeth Stride, Catherine Eddowes and Mary Jane Kelly, although as many as 11 women were killed in Whitechapel between April 1888 and February 1891.
Auctioneer Jonathan Humbert said: "It is chilling to think these very items may have physically been only yards from Jack the Ripper and played such an integral role in one of the most fascinating unresolved crimes of all time.
"Ripper items are rarer than rare by their very nature and I have no doubt these will really capture the public imagination around the world."
The auction will take place on 10 December.