Alfred Rouse 'blazing car murder': Victim could be missing man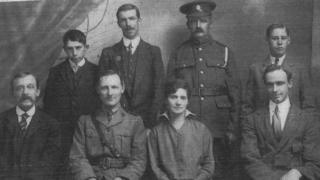 The victim of a man who tried to fake his own death by killing and setting fire to a stranger in a car could be a missing relative, a family has claimed.
In 1930, Alfred Rouse hit a man over the head and put him in a Morris Minor which he then set alight, in Hardingstone, Northamptonshire.
DNA tests are being carried out in the hope of identifying the victim.
Paul Davies, 63, from Penpedairheol in South Wales, said his "missing" great grandfather could be the mystery man.
It is known Rouse was having money problems and wanted to fake his own death when he set the car on fire.
He fled to Wales but was later convicted of murder and hanged at Bedford Jail.
Mr Davies said his great grandfather, James Brick, lived about five miles away from Gelligaer, a town where Rouse is thought to have spent time visiting a girlfriend.
"My great grandfather disappeared around 1929 to 1930," Mr Davies said. "Our thinking is, if Rouse came to see this lady friend, would he have been able to pick him up in his car and take him back that way?"
Mr Brick had nine children but had "left his family to fend for themselves", shortly after he inherited some money, Mr Davies said.
He said his great grandfather was a "bit of a drinker" and was thought to have been "living rough" after going his own way.
"If Rouse had come across James Brick and learned he had money, it could have been an incentive to kill him," Mr Davies said.
Mr Brick was known as "Ginger Jim" on account of his hair colour, he added. Rouse also had auburn hair and it is thought he could have looked for someone who matched his physical attributes, to fuel the belief he had died in the car fire.
Last year, scientists at Northumbria University managed to extract a single, uncontaminated DNA profile from the victim of the "blazing car murder".
It was initially thought the man could have been 23-year-old factory worker William Briggs but the DNA of his family failed to match.
Dr John Bond, forensic science expert at the University of Leicester, has since broadened the search before whittling the candidates down to nine strong leads.
Mr Davies said it would mean a lot to his family to find out what happened to Mr Brick and they were in discussions with Dr Bond about having their DNA tested.
"James Brick is the only member of the Brick family, going back to 1700, that we cannot find any trace of," he said.
Dr Bond said he would look into the possibility of Mr Brick being the victim of Rouse, who told police he chose an unknown man, who would not be reported missing by loved ones.
However, Dr Bond said "thousands" of people had been living on the streets at the time of the murder, with many unable to adapt to life after World War One.