Milton Keynes' reputation 'damaged' by rapist taxi driver case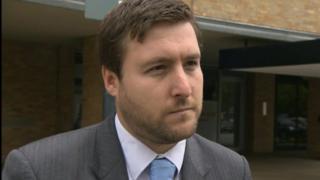 Granting a serial rapist a taxi licence has damaged Milton Keynes' reputation, the leader of the council has admitted.
Peter Marland called the decision to award Nadeem Kiani a licence a "tragedy".
Two councillors resigned from the licensing committee and former Mayor Subhan Shafiq left the council as a result.
Kiani was given the licence in 2011 despite having four convictions for rape and sexual assault.
Labour's Mr Marland had been speaking at a Milton Keynes Council audit committee meeting to discuss an investigation into the scandal.
"It is the first duty of any local authority to protect its citizens and we failed," he said.
Kiani committed his crimes in 1994 and served four years of a eight year sentence.
An investigation of the case has revealed serious flaws in the taxi licensing policy.
It concluded councillors who had allowed Kiani to work in the city had not actually broken the policy's terms, but their conduct had led to questions over whether he was a "fit and proper" person to drive a taxi.
Reputation 'destroyed'
Kiani's licence had previously been briefly suspended after further details of how he had raped prostitutes in London were revealed, in 2012.
But a second committee later lifted that suspension and a council officer granted Kiani a hackney carriage licence.
The chairman and vice-chairman of that second committee, Lib Dem Stuart Burke and Labour's Gladstone McKenzie, resigned in August.
At the meeting on Tuesday, calls have been made for Lib Dem leader Douglas McCall to resign over his backing of Mr Shafiq's decision to support Kiani.
Former council leader, Conservative Andrew Geary, said the Lib-Dems had "destroyed" the city's reputation, by failing to act quickly over the scandal.
He said: "Douglas has left himself in an impossible position. There is only one thing he can do and that is stand down.
"He has left the reputation of this city in a very poor place. It is dented and damaged."
But Lib Dem Ric Brackenbury said taxi licensing procedures had been "so far behind what they should have been".
The report identified processes whereby councillors had been sitting in meetings without having read the papers and had been called up as last minute replacements.
Mr McCall was unavailable for comment because of illness.