Pickles to sort out Northampton Druids Way row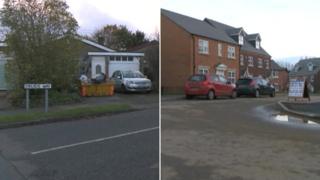 Communities Secretary Eric Pickles has been asked to step in to help residents living in two streets with the same name and postcode in Northampton.
Druids Way in Parklands was built in the 1960s and Druids Way in Moulton is on a new housing estate.
Postal deliveries and even a midwife have turned up at the wrong houses.
The area's MP has invited Mr Pickles to hear residents' concerns after a council refused to change the new road name.
Michael Ellis, Conservative MP for Northampton North, said residents in both streets had been complaining "for weeks" since Daventry District Council gave permission for the new Moulton estate road to be called Druids Way.
'Intransigent and indifferent'
There are now two Druids Ways within the NN3 postcode area within two miles of each other.
Mr Ellis said he had approached the district council with residents' concerns but said they were "intransigent".
A spokesman for the district council said the rules for new road name requests had been followed, notice of the new name had been publicised and no objections were received.
Mr Ellis said he also approached Northampton Borough Council to express concerns of residents in the original Druids Way, which is in its area.
He said officials were "indifferent".
A spokesman for the borough council said: "A road in Parklands has been known as Druids Way for decades, so it is confusing that Daventry District Council chose to give the same name to a nearby street. We feel this is an issue that [they] should resolve."
"I'm concerned about the impact on residents," Mr Ellis said. "The two councils need their heads knocked together."
Mr Ellis raised the issue with Eric Pickles, Secretary of State for Communities and Local Government.
"He seemed interested, and as I knew he was passing through the area I asked him to visit and hear the concerns of some of the residents for himself," Mr Ellis said.
Mr Pickles is visiting Druids Way in Parklands later.