Anger over children's centre cuts in Northamptonshire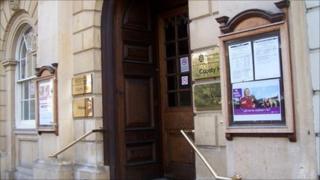 Proposals to close five children's centres in Northamptonshire have been criticised as "woeful" by a former MP.
The county council is consulting over the plans that would see many of the children's services moved to other buildings in the same area.
Former MP Sally Keeble, Labour's prospective parliamentary candidate for Northampton North, said she thought the consultation was a "complete sham".
The county council said it can run the service better from other buildings.
'Complete sham'
It is consulting over centres in Daventry, Kettering, Northampton, Wellingborough and parts of South Northamptonshire.
But, Ms Keeble said: "The plans are completely woeful. The consultation is a complete sham - [it] is extremely short on details.
"I conclude that there are going to be closures and a scaling back in services."
A spokesman for the county council said: "Our consultation continues until 19 December and we have already received comments from 550 people. Ten public meetings have also been held across the county to give families the opportunity to find out more about the proposals and provide their feedback, and these meetings so far have been attended by more than 100 people.
"The decision to deliver some universal children's services from additional locations including libraries was consulted upon over a 12-week period last year. The majority of the responses received by these various methods were supportive of the proposals."