Northampton Station: MP Brian Binley writes to Network Rail chief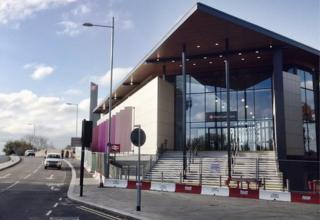 An MP has written to the chief executive of Network Rail over further delays to the opening of a £20m railway station.
Brian Binley, the member for Northampton South, said he is considering raising the problems at Northampton Station in Parliament.
The new building was due to open on 6 October, but Network Rail is still running through a "snagging list".
Mr Binley called the company "ill-mannered and arrogant".
Network Rail had blamed the delays on "unforeseen contractual issues" and said the station, which replaces the existing 1960s building, would open in November.
The company has now been forced to apologise to passengers for further delays. A spokesman was unable to give a new opening date.
Northamptonshire County Council chief executive Paul Blantern said the station will not open until January.
He said: "It has been delayed for reasons we know, or some of us know, but the fact is people will look back and these few months of delay will be completely forgotten.
"What people will say is 'wow, look at the investment that went in here'."
Chairman of Northampton Rail Users Group Paul Minton said it was frustrating to see the "magnificent" new station every day, but not be able to use it.
He said: "It is like having a toy at Christmas and it is very tantalising, but no-one can get into it."
Northampton Borough Council leader David Mackintosh said Network Rail had cancelled two meetings to discuss the station.
He said: "The most frustrating thing for everyone is that we are not being kept informed."
Mr Binley, who has written to Network Rail chief executive Mark Carne asking for answers, said: "They do not seem to understand this is public money, that our station is important to us.
"They do not seem to understand people want to use the station now and they do not seem to understand we have concerns that are not being answered."
A Network Rail spokesman said the company is working "through a snagging list" including the connection of services, final testing of services and equipment, and installing final fixtures and fittings.