Northampton Grand Union Canal fish moved for £100,000 lock repairs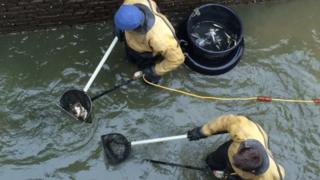 Thousands of fish have been taken out of the Northampton arm of the Grand Union Canal ahead of a £100,000 restoration of lock gates.
The Canal and River Trust is carrying out the work and said about 5,000 fish have been removed from the water over the past four days.
Species including bream, perch, pike and roach have been put back in another stretch of the canal.
The fish needed to be moved so the lock could be drained for the repairs.
A small electrical current was put into the water to temporarily stop them swimming before they were caught in nets and put into large buckets.
The gates to locks numbers 2 and 13 are being replaced with new ones, which weigh one-and-a-half tonnes.
Mark Barkas, a waterways supervisor with the trust, said: "They've reached the end of their lifespan, which roughly is about 25 years.
"We could leave ourselves issues for the summer - we could have gate failures which would mean our customers would be getting stuck, we could have a lot of water leakage.
"We lower the water levels right down so you can see the fish and it makes it easier for us to get to them at which point we remove the fish and take them away to another section of the canal."
The repairs are expected to finish on 19 December.