Eric Pickles steps in over Northampton Druids Way row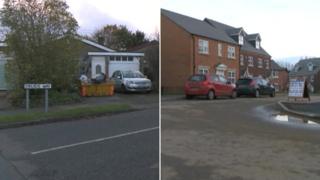 One of two streets with the same name and postcode in Northampton could be renamed after the Communities Secretary Eric Pickles intervened.
Druids Way in Parklands was built in the 1960s but Daventry District Council gave permission for another Druids Way in Moulton, on a new housing estate.
Mr Pickles wrote to the council after the area's MP informed him of residents' concerns.
The council is now consulting Moulton residents on a change of street name.
Michael Ellis, Conservative MP for Northampton North, said residents in both streets had been complaining "for weeks" since the council gave permission for the Moulton estate road to be called Druids Way.
There are now two Druids Ways within the NN3 postcode area, within two miles of each other.
He said delivery companies found it difficult to know where they were supposed to go and on one occasion a midwife even turned up in the wrong road.
Mr Pickles visited the original Druids Way on 28 November, at Mr Ellis's invitation.
'Common sense approach'
He wrote to the council suggesting they consider renaming the new Druids Way.
Mr Pickles said he was "troubled" that residents had "felt a negative effect from the confusing labelling".
He said while he appreciated Daventry council had adhered to the proper procedures for approving new road names, the council should "exercise their discretion" to facilitate a name change.
"I would strongly encourage you to adopt a robust, common sense approach and make this change as soon as possible," Mr Pickles wrote.
Chris Millar, leader the council, said: "We will be consulting the residents of the 19 occupied properties in the road, the developers and the parish council about our plans and we are in the process of exploring alternative names.
"One possibility is to rename the road after a local war hero, particularly during this centenary year of the start of the First World War."