Corby council rejects Brookfield Plantation waste plant plans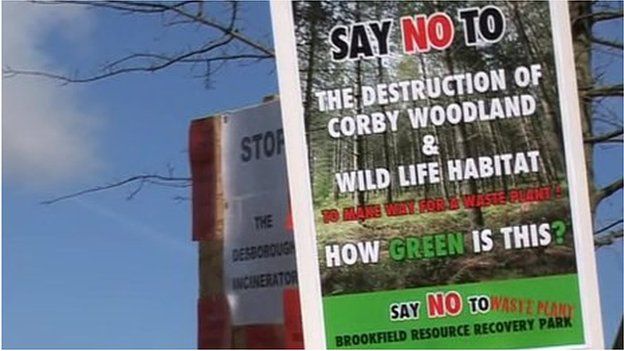 Plans for a waste plant in Corby opposed by more than 1,000 people have been thrown out.
The Brookfield Plantation plans were rejected as developers did not provide an adequate environmental report.
Corby Borough Council's Labour leader Tom Beattie said it was an officer decision, rather than a political one.
Gretton Brook Estates had said the industrial park would create 3,000 jobs, but protesters called the decision "fantastic".
Mr Beattie said: "I am not a planner. I am not a solicitor. I am a politician.
"The decision was taken because of what was considered to be a lack of available information."
The proposals were for an industrial park and "energy-from-waste" incinerator.
Corby Borough Council's decision to "dispose of" the application on Friday did not amount to a full refusal, but means officers will carry out no further work on it.
Gretton Brook Estates has no right to appeal against the decision, but will be permitted to submit a fresh planning application.
More than 1,200 people had signed a petition against the scheme, with 500 formal objections submitted.
In April last year 150 people marched to the Corby Cube to demonstrate against the proposed development, arguing it would destroy wildlife habitat, generate smells, attract flies and increase lorry movements.
Deputy leader of the council's Conservative opposition, Rob McKellar, said the news was the "best Christmas present I could have asked for."
He said: "The campaign to stop the waste plant is by no means over as the developers do still have the right to submit a fresh application.
"One thing is for sure, though - every step of the way there will be objection after objection, protests, petitions and legal challenges."
Gretton Brook Estates managing director, Doug Wright, said he had not been officially made aware of the decision.
He said it was "disappointing" as the park was a "tremendous opportunity."
The developer will now have an option to rescind its contract with Tata Steel to buy the Brookfield Plantation.
Related Internet Links
The BBC is not responsible for the content of external sites.