M1 reopens after cheese lorry fire at Crick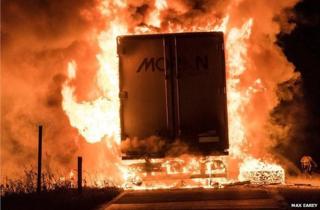 The M1 in Northamptonshire has fully reopened a day after a cheese lorry fire forced the closure of the carriageway.
Eyewitnesses said there were "a couple of explosions" on the lorry before fire crews arrived, about 19:30 GMT on Monday.
About 18 firefighters attended the incident at junction 18, near Crick. No-one was injured.
Police said all lanes were reopened in time for the evening rush hour.
Eyewitness Max Earey, driving from Crewe to Essex, said he was waiting on the carriageway for more than an hour.
"I could see something on fire in the distance but cars were still getting by - then a couple of lorries stopped to hold the traffic back as they could tell it might get a whole lot worse, which it did," he said.
"There were a couple of explosions and then the emergency services turned up."
A spokesman for the Highways Agency said "It was was an HGV carrying cheese which caught fire."
BBC Travel news reported drivers were delayed by about 90 minutes, with congestion stretching back to junction 20, following the blaze.