Northamptonshire County Council redeploying 4,000 staff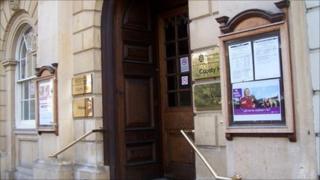 The vast majority of 4,000 county council staff in Northamptonshire are to be transferred to four new bodies in a restructuring of local government.
The council said it was the biggest change in public service in 125 years.
The plans are part of a series of measures to help the council as it faces a multi-million pound shortfall.
The new bodies are for child protection, care of vulnerable adults, providing health and well-being services, and improving the county.
The authority said the proposals could see all but about 150 council staff transferred to the new organisations.
'Online market place'
The full details of these organisations have yet to be worked out.
Jim Harker, leader of the Conservative-controlled council, said: "The method of largely paying for local services through government grant no longer stacks up and in Northamptonshire our demand is far outstripping our income as we continue to play our part in tackling the national deficit."
He said the new organisations, which would be created over the next five years, "would be free to win contracts with other organisations and generate additional income".
Steve Bennett, branch secretary for Unison at the council, said: "It is a major concern. Staff know that their contract won't be protected for life, the organisations can always restructure and the terms and conditions disappear. It's another kick in the teeth to dedicated members of staff."
The council also announced its budget for 2014-15 which includes savings of £66m along with a 1.95% increase in its council tax precept.
It also aims to save £2m over the next five years with the introduction of a new "online marketplace" for adult social care services.
People will be able to find services including healthcare equipment, physiotherapy, domiciliary care, private hire transport, mobility scooters, respite and day care.