Northampton stabbings: Police consider attempted murder charge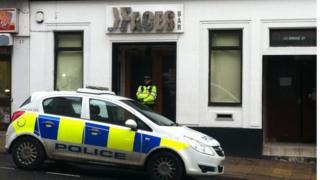 Police are looking to pursue charges including attempted murder, public disorder and wounding with intent following a mass brawl in Northampton.
Six people were stabbed in a fight involving "50 or 60" people in Faces bar and NU Bar on Bridge Street.
No arrests were made during the incident at 04:00 GMT on Friday.
Northampton Borough Council has suspended the licences of the two bars for seven days.
Eight people were injured, with three being treated at University Hospital Coventry and the remaining five at Northampton Hospital.
An urgent meeting of the council's licensing sub-committee on Friday suspended the bars licenses pending a full review.
Northamptonshire Police's licensing officer, Sergeant Martin O'Connell, told the committee attempted murder was among the charges being considered.
He said that weapons including metal bars, knives and bottles had been used during the fight.
The trouble involved a number of people who had come to Northampton from London for a pre-arranged evening out, police said.