Corby Cube repairs ongoing five years after it opened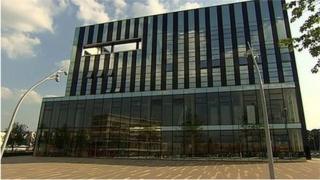 Work to repair the multi-million pound Corby Cube is ongoing more than five years after it was opened.
The complex, subject to a £13m overspend, opened in November 2010, but the top floor is still not complete.
Conservative opposition leader on Corby Borough Council, David Sims, called the Cube a "waste of taxpayers' money".
Despite admitting it was "disappointing" further repairs are needed, council leader Tom Beattie said it was a "fantastic iconic building".
The Cube houses council offices, a library, theatre and a register office.
A Freedom of Information request from the BBC revealed £47.9m has been spent on the building, which had an original budget of £35m.
In August 2013, £600,000 was put aside to fix leaking roofs and complete work on possible office space.
'Helter skelter'
Work to the roof garden was completed in July 2014 at a cost of £322,000.
A helical staircase which had been described by building inspectors as "dangerous, like a helter skelter" has also been repaired at a cost of £27,000.
But work is still needed to bring the top floor of the Cube up to standard, including installing a curtain wall and re-roofing.
Councillor Sims said the building was "pleasing to the eye" but has been a "poorly managed, waste of taxpayers money".
He said: "It is going to be a big tax burden. The running costs are so extreme."
Councillor Beattie said the authority was continuing to look into ways of recouping the costs of ongoing repair work.
But he said the Cube was "a real hub of activity" accommodating thousands of visitors every month.
"The building is a major part of the regenerated town centre, which the people of Corby can be proud of," he said.