A45 bus fire: Police escort for Northampton mum-to-be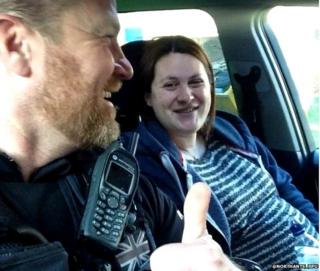 A woman in labour whose route was blocked by a double-decker bus fire has been escorted to hospital by police.
Emergency services were called to the fire on the A45 between Riverside and Barnes Meadow in Northampton at about 09:20 GMT.
Northamptonshire Police tweeted: "One very happy lady in labour escorted by Specialist Ops cops to the hospital from the A45 closure."
The name of the surprised, if relieved, police escort mum is yet to revealed.
The road was closed for two hours while a large fuel spill was cleared.
The story of the policemen-turned-angels has become a hit on Twitter.
Kris Shortland tweeted: "@Northants_RPU hats off to you and the officer :) just ordinary caring humans too! Not just a uniform"
Hayley White wrote: "@Northants_RPU awww how wonderful, congrats to the new mum well done officers, how wonderful to play such a special part of a childs new life."
A spokesperson for bus operator Stagecoach said: "A bus travelling along the A45 towards the depot in Northampton suffered a malfunction resulting in an engine fire.
"Safety is our number one priority and we have launched an investigation into the cause.
"We are sorry for any inconvenience this may have caused."
No passengers were on the bus at the time of the fire.