Northampton Greyfriars bus station tower to be removed by crane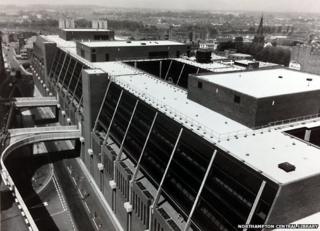 Part of a tower and bridge at a brutalist bus station likened to the "mouth of hell" are to be removed by crane.
The work, due to start on 16 January, is part of the demolition of Northampton's Greyfriars bus station and office building.
Lady's Lane will be closed for three days while the work takes place.
The destruction of the 1970s building will be completed in March when it will be flattened using explosives.
The process of decommissioning and demolishing Greyfriars started in 2013. Tons of material has already been removed in preparation for its demolition.
The bus station was due to be demolished by the end of 2014 but the discovery of higher than anticipated levels of asbestos found in the site pushed the date back.
'Unwelcoming sight'
Costing more than £40m in today's money, the 1970s building has been the subject of ridicule for decades as an over-ambitious example of bad planning
It was derided by Channel 4 presenter and designer Kevin McCloud as "like a great big mouth of hell".
The crane will work on the north side of the building to remove part of the tower and bridge.
Northampton Borough Council leader David Mackintosh said the demolition will create a "huge development opportunity".
He said: "The unwelcoming sight of Greyfriars will soon be removed from our skyline as the land is prepared for a bright new future."
The road will shut from 19:00 GMT on Friday, 16 January until 18:00 GMT on Monday, 19 January.