Private Eye names Northampton Borough Council leader Philistine of the Year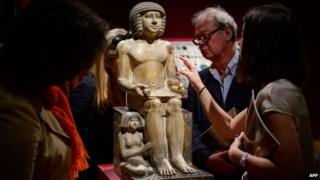 A council leader named Philistine of the Year by a satirical magazine over the sale of an Egyptian statue has laughed off the dubious honour.
David Mackintosh, from Northampton Borough Council, said the Private Eye award was "a good bit of fun".
The statue of Sekhemka sold for £15.76m to help fund a £14m extension to Northampton Museum and Art Gallery.
Private Eye called the deal "shabby", but Mr Mackintosh said it would benefit people for years to come.
'Outstanding candidate'
The award was part of the satirical magazine's Rotten Borough Awards 2014, published in the most recent Private Eye.
Rotten Boroughs editor Tim Minogue said "a team of learned judges" had sifted through the nominations.
He said: "They felt unanimously that Mr Mackintosh was far and away the outstanding candidate in this category."
Other awards handed out included Brass-Necked Councillor of the Year, the Legover Award and the Malcolm Tucker Award for Media Manipulation.
Mr Mackintosh said the "most important thing" was that the sale raised more than £8m for the Northampton Museum and Art Gallery and the council-run Abington Park Museum.
Forty-five per cent of the money raised went to the seventh Marquess of Northampton, whose ancestor donated Sakhemka to the town "forever hereafter".
Both museums were removed from Arts Council England's accreditation scheme after it ruled the sale breached the accredited standards for how museums manage their collections.
Conservative-run Northampton Borough Council is now ineligible for a range of arts grants and funding. It has also been excluded from participating in the accreditation scheme until at least August 2019.
The 4,000-year-old statue of Sekhemka, a court official and priest, was sold at Christie's of London at an auction in July amid protests from the Save Sekhemka Action Group, which said it was the "darkest cultural day in [Northampton's] history".