Wellingborough £115m employment park served by 'narrow country lane'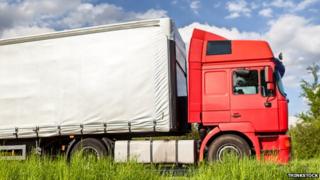 A "narrow country lane" that will have to cope with "thousands of lorries" will be central to a debate about a £115m business park.
The second phase of plans for Appleby Lodge, which will create 2,500 jobs, is set to be considered by Wellingborough Council.
Residents and politicians have raised concerns about traffic congestion.
The application has been given outline planning and the infrastructure phase has been recommended for approval.
Developers Prologis plan to build Appleby Lodge just off Sywell Road in Wellingborough.
The development will create jobs for warehouse staff and office managers, as well as positions in IT and customer services.
Councillors will consider issues around an internal access road, the demolition of existing buildings on the site, draining and landscaping.
'Not adequate'
Conservative councillor for Wellingborough West, Jim Bass, said he was in favour of the development, but had concerns about "HGVs going through the villages".
He said residents were concerned a "narrow country lane from Ashby Lodge down past Mears Ashby and into Sywell is simply not adequate".
"The considerations for HGVs, which could run into thousands, is not being given enough weight."
Isham, Hardwick and Mears Ashby parish councils have all submitted concerns to the council regarding the impact of traffic.
A spokesman for Prologis said the company hoped to start infrastructure work on the business park later this year.
He said: "When complete, we estimate that the site will deliver around 2,500 new jobs, which will contribute to the town's future growth and prosperity."