Dambusters 'bouncing bomb' sight sells for more than £41,000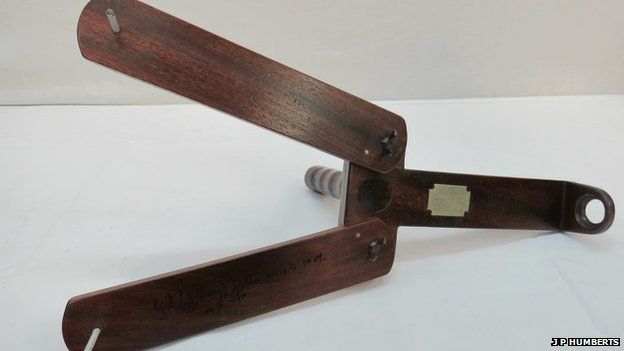 A sight used to guide the "bouncing bomb" that breached the Mohne dam in the Dambusters raid of 1943 has sold at auction for £41,500.
Towcester auctioneers J P Humbert sold the Dambusters wooden "Dann" bomb sight - which had an estimate of between £20,000 and £25,000.
It was used during Operation Chastise, the raid on the Mohne, Edersee and Sorpe dams in May 1943.
The Dambusters of the 617 Squadron flew from RAF Scampton in Lincolnshire.
The "Dann" bomb sight was designed by Wing Cdr C L Dann and was used by bomb aimer Pilot Officer John Fort on board the AJ-J, the fifth aircraft to attack the dam, piloted by Flt Lt David Maltby.
It was the Barnes Wallis bouncing bomb guided by this sight which breached the Mohne dam and flooded the western Ruhr region.
It was passed to David Maltby's father, Ettrick, after the raid and placed in the museum of prep school Hydneye House, East Sussex, which he owned and ran.
When the school was sold in the mid-1950s it was passed onto the new head master and eventually to the current owner, a former pupil.
The item was sold as part of an International Militaria Auction.
Related Internet Links
The BBC is not responsible for the content of external sites.