Northampton Christmas shopper numbers up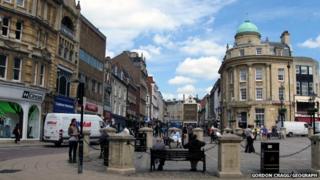 Footfall figures in Northampton town centre over Christmas rose by nearly 9% compared with the last year, bucking the national trend.
A total of 1.7 million shoppers visited in a six-week period covering Christmas and New Year, 135,000 more than last year, said the borough council.
It believes the increase is due to more shops, a free car park scheme and festive events.
National figures showed footfall in December was 0.7% down on a year ago.
David Mackintosh, Conservative council leader, said Northampton's figures were very encouraging.
"When you're in competition with the internet and people going to different places you have to do all that you can but we put a lot of effort in the run-up to Christmas," he said.
"We had a German market, the lights were very nice and I'm sure people do come... and have a positive experience with the parking offer."
Footfall is measured by an automated system of counters at various locations to track the numbers of people.
Diane Wehrle, from retail data firm Springboard, said: "Footfall - the volume of activity in a town - is really important to our retailers."
She said this year had seen more shops offering discounts on Black Friday, 28 November.
"People were literally waiting for prices to be discounted further - waiting right up to Christmas before doing their last-minute Christmas shopping," she said.
Figures jointly released by the British Retail Consortium and Springboard recorded that national footfall in December was 0.7% down on the previous year.