Battle of Northampton site needs more council protection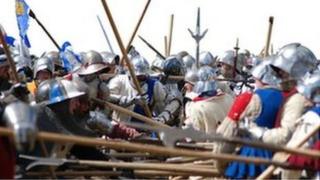 A conservation group has criticised a golf club for contaminating a site of historical interest in Northampton.
The Battlefield Trust has written to Northampton Borough Council to seek more protection for the 1460 site of the Battle of Northampton at Delapre.
The Delapre Golf Centre that rents council land at the site had cleared soil on its site for building work.
The borough council said it had told the golf club to stop the work and was awaiting an explanation.
Northampton Battlefield Society chair Mike Ingram, said the soil clearance would have destroyed surviving battlefield archaeology.
"Knowing where artefacts were found is vitally important for understanding how a battle was fought and is part of the archaeological record," he said.
"By stripping the top soil and heaping it up, the golf club has caused that to be lost."
'Stop work' order
The Battlefields Trust letter asks the council to take action to address the damage as far as possible and ensure the club does not do any other work without permission.
Trust chairman Frank Baldwin said: "This development is particularly disappointing given all the hard work put in by the Northampton Borough Council and its stakeholders to develop a conservation management plan for the battlefield last year.
"The golf club seems to have avoided any of the archaeological investigation conditions and costs."
The borough council said it had visited the site and spoken to the golf club management.
Tim Hadland, cabinet member for regeneration, enterprise and planning, said: "We told the golf centre any work must stop immediately and any works will need planning permission."
The centre must submit paperwork for the council to consider by 6 February but have declined to comment further.