Free parking helps Northampton buck decline in shoppers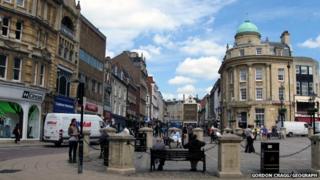 Free parking in Northampton has helped reverse a downturn in the number of people going into the town, new figures have shown.
Since 2011 the town's borough council has set about extending free one hour parking in its car parks.
Use of free parking increased from 48,000 vehicles in 2011-12 to 153,000 2013-14.
The number of shoppers coming to Northampton, which had been falling, rose by 400,000 in 2014.
The numbers had declined steadily from 15.9m shoppers in 2010 to 14.1m in 2013.
The number went up to 14.5m in 2014.
The figures are in a report to the borough council's cabinet which meets on Wednesday.
David Mackintosh, leader of Northampton Borough Council, said: "As has been seen in many town centres across the country, footfall figures have been steadily declining and we are pleased to now be bucking the trend.
"Shoppers and businesses alike told us they wanted free parking and we responded. The free parking scheme has proved extremely popular and helped to bring more people into Northampton to enjoy the town centre."