Lego fan recreates Northampton's 'mouth of hell' bus station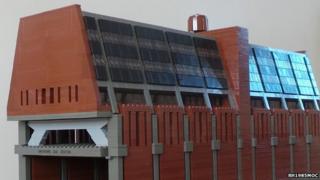 Greyfriars bus station in Northampton, dubbed "the mouth of hell" as an example of brutalist architecture, has been recreated in Lego.
Hobbyist Rob Smith, 29, a health worker from Daventry, has just created the 60s bus station at his second attempt.
His grandfather worked at Greyfriars and its architecture fascinates him.
The building will be demolished on 15 March and Mr Smith thought it a good time to build the model which gave him his biggest ever challenge.
He took dozens of photographs of the building, scoured the internet for detail and spoke at length to his grandfather, to be as authentic as possible.
He has previously built models of the Queen Vic from EastEnders and Preston bus station - another brutalist structure from the 1960s.
Greyfriars bus station was derided by Channel 4 presenter and designer Kevin McCloud as "like a great big mouth of hell".
"It took about £150 worth of bricks I had left over from other projects to build," Mr Smith said.
"Lego no longer make the grey bricks needed for the concrete pillars and main structure but fortunately I had plenty in my collection."
He also had enough brown bricks for the outer shell but the sloping roof windows proved a problem.
"My nephew bought a kit and in the instructions it showed how hinged windows were fitted and I just applied that technique for the offices on top of the building," he said.
"Planning took about four months and I had to build the top first - not the way the original builders approached the problem.
"The first time round I started from the ground and built upwards and it ended up not looking right.
"This time I made the model in two parts - roof first - and fitted then fitted them together."
The structure made from about 3,300 bricks and other Lego pieces measures about 39in (100cm) by 12 ins (30cm).
It will now be kept in his spare room alongside several other Lego models as an example of iconic brutalist architecture lasting long after the original is reduced to dust.