Northamptonshire Police faith initiative 'divisive'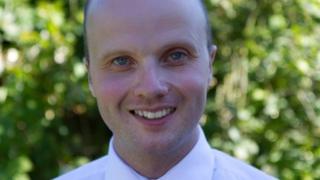 A new scheme to encourage faith-based groups to help make Northamptonshire the "safest place in England" has been criticised as "divisive".
The Office of Faith-Based and Community Initiatives is the brainchild of police commissioner Adam Simmonds.
Mr Simmonds said the "innovative" plan would help reduce crime and increase community safety.
But Stephen Evans, of the National Secular Society, accused him of having a "real evangelical agenda".
The scheme, which has a budget of around £100,000, aims to enhance the capacity of faith-based and community organisations to "implement successful initiatives to increase community safety".
The office's director, Helen Boardman, is paid between £35,000 and £42,000.
Her position has previously been criticised by prominent scientist and atheist Professor Richard Dawkins.
Mr Simmonds is a Christian, while Miss Boardman is a member of a Baptist church in Towcester. The key note speaker at an event to launch the initiative was the Bishop of Brixworth, Rt Revd John Holbrook,
Humanist Charlie Oliver, from Northampton, said he welcomed the community nature of the project but said: "The way it is being set up feeds into assumptions it is religious people that do good and religious people are Christian."
'Broken and lost'
He said: "I worry that this could be divisive."
Mr Evans said: "Bringing the gospel to people is not a proper use of taxpayers money."
Mr Simmonds said the project would include groups of all faiths and non-religious community groups.
But he added: "I do (do God) and millions of people across the country, be they Christian, Hindu, Sikh or others, do God."
He said Miss Boardman had not been appointed because she was a Christian.
She said she was an "active Christian" with "a real passion for people who are broken and lost".
"To use people of all faiths who are already passionate about community issues is a no brainer," she said.