No further action over FGM arrest at Heathrow Airport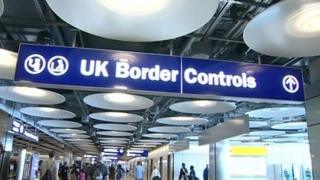 A police inquiry into a woman arrested at Heathrow Airport on suspicion of conspiracy to commit female genital mutilation (FGM) has been closed.
The 42-year-old was about to board a flight travelling to Ghana via Amsterdam when she was held by officers on 6 February.
The woman, from Northampton, is a British national born in Zimbabwe.
Northamptonshire Police said no further action was being taken in this case and the woman had been released from bail.
The BBC understands that when the woman was released on bail last week she was reunited with her eight-year-old daughter, who had been taken into the care of social workers after her arrest.
Female genital mutilation
FGM includes procedures that alter or injure female genital organs for non-medical reasons
About 140 million girls and women worldwide are living with the consequences of FGM
Dangers include severe bleeding, problems urinating, infections, infertility, complications in childbirth and increased risk of death for newborns
Source: World Health Organisation