M1 driver went wrong way on motorway to reach partner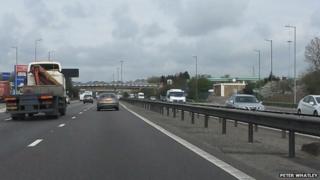 A man has been stopped for allegedly driving the wrong way on a motorway after his partner had crashed.
Northamptonshire Police said a car and a lorry were involved in an accident on the M1 shortly after 08:00 GMT.
The driver of another car later joined the motorway at Watford Gap services and drove against traffic to try to reach his partner.
Officers said they had been reviewing video footage as part of a dangerous driving inquiry.
The collision happened on the northbound carriageway between the entrance and exit slip roads for the services. No-one was injured.
Police said the other car was believed to have then driven up to 100ft (30m) in the wrong direction along the northbound carriageway.
Police tweeted to say the matter was in the hands of the Crown Prosecution Service.