Northamptonshire County Council outsources services and redeploys staff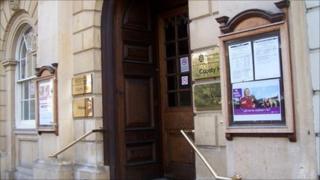 Plans to outsource all services and make cuts of £68m have been approved by Northamptonshire County Council.
The authority agreed to trim areas such as promoting the county's economy, waste management and the fire service.
A plan to move the vast majority of the council's 4,000 staff to four new bodies - leaving just 150 employed by the authority - was also approved.
The so-called "Next Generation Model" will see a core council commission "specialist social enterprises".
The 150 remaining council staff will be part of this core authority.
The four new bodies are for child protection, care of vulnerable adults, providing health and well-being services, and improving the county.
'Critical services'
Budget report figures showed the cost of providing services would be expected to rise by £104m over the next five years, while money received from government will fall by £79m.
Councillors agreed to "efficiency savings" including spending £1m less on promoting the county's economy, £7m less on waste management, £750,000 less on the fire service budget and saving £4m reviewing all looked after children in places outside the county.
But cabinet member for finance, Bill Parker, said the budget protects "frontline and critical services" such as libraries and country parks.
The Conservative-controlled council claimed work to implement the "Next Generation Model" would see it explore how services can become "separate stand-alone organisations free from statutory restraints".
Council leader Jim Harker said traditional methods "not only no longer work financially, but also do not meet the needs of citizens".
He said the changes would be the biggest seen by the council in its 125 year history.
Councillors agreed to raise council tax by 1.95%. Northamptonshire remains the lowest taxing county council in the country.