Northamptonshire council outsourcing plan condemned as 'muddled vision'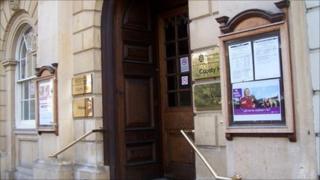 Plans to radically restructure the county council and make cuts of £68m in Northamptonshire have been condemned by the opposition as a "muddled vision".
Tory plans to set up four outside bodies to run services and cut 4,000 staff to 150 were approved on Thursday.
Lib Dem Chris Lofts dismissed the "Next Generation Model" as a "muddled vision" rushed through at the last minute.
Labour spokesman Mick Scrimshaw said council services should be public and private provision was not always best.
The four new specialist social enterprises were to provide child protection, care of vulnerable adults, health and well-being services and economic development.
Mr Scrimshaw said the plan was driven by dogma as the ruling Conservative administration naturally believed small government and private enterprise were always best.
"But how can people hold these bodies to account - that's the issue," he said.
"And they have not yet explained how they plan to achieve all this."
'Facing steep hill'
Mr Lofts said he was also concerned because he believed it was not a plan but a "muddled vision" with no real detail of savings.
They were living on hopes and keeping their fingers crossed, he said.
Fellow Lib Dem Sally Beardsworth said the Conservatives were "hell bent" on pushing through ideas that were at best "embryonic" and the administration did not have a good record on innovation.
Plans to transfer the housing stock to a tenants association had taken much longer than planned, she said.
"They are facing a steep hill and cannot afford mistakes because there's no money."
Council leader Jim Harker said traditional methods "not only no longer work financially, but also do not meet the needs of citizens".
He said the changes would be the biggest seen by the council in its 125 year history.
Analysis
Prof Tony Travers of the London School of Economics told the BBC he believed there would be more moves away from traditional forms of local authority structure.
On the face of it the proposals by Northamptonshire County Council are fairly radical, he said.
"If all but 150 staff are to be fully 'outsourced' to social enterprises, in effect the private sector, it will be very different from traditional local government."
Several local authorities have already taken steps into new territory. Essex County Council has a major outsourcing deal with Capita.
The London Borough of Barnet has also been radical at outsourcing. As long ago as 2009 it pioneered an easyCouncil concept, which offered a set level of service but if customers wanted more they had to pay extra on a rising scale.
In Southampton the city council is proposing to set up a contracts system by which internal and external bodies will bid to provide services but this system is under development and will not be fully operational until 2017.
"There will be far more of this kind of move. Local government, like defence which is in the news, is being cut the furthest," Prof Travers said.