M1 motorway suspected whiskey-drinking driver charged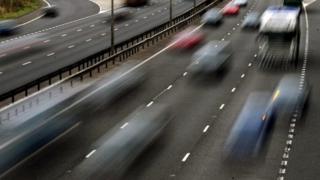 A motorist allegedly spotted drinking from a bottle of whiskey on the M1 has been charged with drink-driving.
The man was arrested on Saturday after Northamptonshire Police were contacted by three witnesses over the way the car was being driven.
Officers from the roads policing unit pulled the vehicle over at junction 15 of the motorway at 14:30 GMT.
The man was arrested after he blew 76mg per 100ml of breath at the roadside - twice the legal limit of 35mg.
Police were first alerted to the driver as he was "swerving across lanes on the M1 Southbound at junction 17", via phone calls from two members of the public.
Officers in a motorway car at junction 15a were primed to intercept the vehicle.
At that stage police received another phone call "reporting that the driver of the car is drinking from a whiskey bottle".
The motorway car officers attempted to pull over the driver, who was said to be driving at 55mph and refusing to stop.
The driver did eventually pull over, at which point he was "arrested for excess alcohol" after having "blown 76 at the roadside".
A spokeswoman for Northamptonshire Police confirmed the man had been charged with drink-driving.