The Daventry Experiment: Commemorating the birth of British radar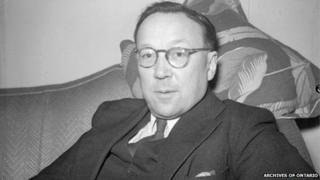 Eighty years ago two men drove a van with a radio receiver to a field in Northamptonshire. The experiment that followed helped win a battle in a war that had yet to start.
Not far from the A5, in the village of Litchborough, lies a memorial stone.
The plaque tells how two men - Robert Watson-Watt and Arnold Wilkins - showed for the first time how radio waves could be bounced off aircraft up to eight miles (13km) away.
And they did so with little more than a set of wooden poles, some wire, a receiver and an aircraft.
The findings of what became known as the Daventry Experiment were not lost on the British government.
They meant radio waves could detect aircraft.
The government went on to fund the development of radio detection finding (later called RAdio Detection And Ranging - RADAR) and the first operational radar station at Bawdsey in Suffolk.
By 1937 there were three full-scale radar stations on the south coast of England, and by the outbreak of the war there were 19.
The series of stations around the coast formed what would be known as the Chain Home. It was the world's first working radar system.
The 80th anniversary of the experiment is being commemorated by the Bawdsey Radar Trust, a gathering of amateur radio enthusiasts and Eddie Izzard, who played Watson-Watt in the film Castles in the Sky.
Brian Leathley-Andrew, chairman of the Coventry Amateur Radio Society, said: "It's believed it shortened the war by quite a good bit.
"Indeed, it is possible the Battle of Britain would not have been won had it not have been for radar.
"This is a very big day and has been very well attended."
Watson-Watt did not get the recognition he deserved, and Wilkins had almost been airbrushed from history, said Mr Leathley-Andrew.
"You have to go searching for the memorial.
"Over 10 years ago I set out with my grandchildren and we were searching for it.
"It is a modest little memorial and sadly a reflection on what we tend to think about engineers in this country."