Police faith initiative: No money for non-Christian religious groups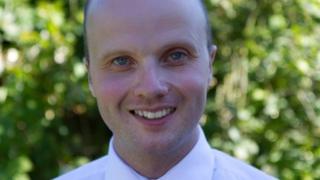 A project aimed at helping faith groups reduce crime has not given any money to non-Christian religious schemes.
The majority of grants paid out by Northamptonshire's Office of Faith-Based and Community Initiatives (OFBCI) have gone to Christian groups, with the rest going to non-faith initiatives.
Krishna Thakrar, of Wellingborough's Hindu Temple, said he felt "excluded."
Police and crime commissioner Adam Simmonds, who runs the scheme, said it would increase community safety.
Earlier this month Stephen Evans, of the National Secular Society, accused Mr Simmonds of having a "real evangelical agenda".
A total of £63,410 has been given out by the OFBCI since its launch in January 2014, with about £50,000 going to Christian groups.
---
Religious groups in Northamptonshire
Baha'i
Buddhist
Christian
Hindu
Jewish
Muslim
Sikh
Source: Northampton Inter Faith Forum
---
The Reverend David Wiseman, of Northampton Inter Faith Forum, said he was "disappointed" only Christian religious groups had received money.
He said projects that had been given money were doing "really innovative work" but the OFBCI should be at a stage "where they can make an investment in other communities".
"There are very active community projects for Sikh, Hindu and Muslim communities," he said.
Mr Thakrar was one of a number of non-Christian religious leaders contacted by the BBC who said they had never heard of the scheme.
He said: "I feel we are being excluded. It should not happen. I do not think there is any excuse for it.
"If those administrating it can not contact certain groups they shouldn't be running it."
Aysha Warrack, a fundraiser at the Northampton Muslim women's group Pearls of Peace, said she had heard of the OFBCI.
But she said her group had decided to "remain neutral," despite working closely with police informally.
"There is quite a lot of reluctance and suspicion in the community," she said. "To take money from the police did not feel right."
Among the groups that have received money are the Corby Street Pastors, Full Gospel Church in Rushden and non-faith organisations like ZimWomen, which works to encourage social inclusion.
'Inclusive project'
The "No Tapping Out" scheme run by the Perspective Trust in Kettering and Corby received £3,000.
Director Kal Budwal said the project, which combines fitness training with mentoring for troubled teenage boys, "would not have been able to move forward" without funding.
The chief executive of crime2christ Social Action, Suzy van Rooyen, said a £3,000 grant had helped it in its work to inspire people not to re-offend.
Openly-Christian Mr Simmonds has previously said the project would include groups of all faiths and non-religious community groups.
His office has been unable to provide figures relating to how many applications it had received from non-Christian religious groups.
The BBC approached Mr Simmonds for a comment on the grant figures on Wednesday, but is yet to receive a response.