'Bullied' whistle-blower settles £1m claim out of court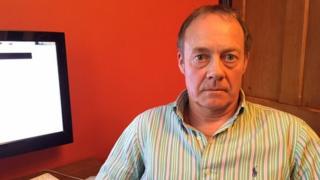 A council officer who claimed he was "harassed, threatened, undermined and belittled" after turning whistle-blower has reached an out-of-court settlement.
Corby Borough Council's head of property Steven Redfern had lodged a £1m damages claim at the High Court.
But following mediation on Thursday he is "leaving the council on mutually agreeable terms".
Mr Redfern said he had been "a target for people's venom," but the council had strongly denied all his claims.
A joint statement from Mr Redfern's solicitor Des Collins and Corby Borough Council said the authority wished Mr Redfern well in the future.
It said "no further statement" would be made.
According to legal papers submitted to the court, Mr Redfern had reported concerns about a number of "unethical" land deals to the council in August 2011.
Mr Redfern said he was "bullied" after raising his concerns.
'Disciplinary proceedings'
He was signed off work on 12 November 2012 with "depression and anxiety", having had suicidal thoughts.
The claim relates to a period between late 2008 and November 2012.
In papers submitted to the court, Corby Borough Council denied the behaviour of any of its employees amounted to "harassment, threatening, undermining or belittling conduct".
They also said Mr Redfern was not "silenced" by officers or subjected to threats of disciplinary proceedings.
The writ filed by Mr Redfern had said he had warned the council about land deals at St James and Kingswood.
In June 2013, the Audit Commission concluded the St James transaction "may have resulted in a loss of between £4.2m and £9.5m".
The writ said Mr Redfern was subjected to "harassing and degrading treatment" for writing a critical report into the £47.9m Corby Cube project, opened in November 2010, which now has a £13m overspend.
The council had denied he had been pressurised over the report.