Wicksteed park sculpture marks end of £3m lake restoration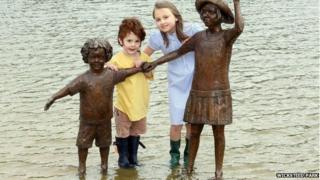 A sculpture of two children is being unveiled to mark the completion of a £3m lake project in Northamptonshire.
The life-size bronze by artist Clare Abbatt will be on show at Wicksteed Park in Kettering, from Tuesday.
It is intended to symbolise the generations of children who have used the park since founder Charles Wicksteed opened it in 1921 to encourage outdoor activity.
During restoration silt was removed from the lake and a beach was created.
Two children were chosen to model for the sculpture following an appeal for volunteers.
Megan Phillips, nine, from Kettering modelled for the girl who is also supposed to be a representation of Hilda Wicksteed, daughter of the park's founder.
She said: "It is amazing that a sculpture of me will be in the park for years and years."
Victor Groves, aged four, from London said it had been "fun" modelling for the artwork.
The sculpture was paid for by the Wicksteed Charitable Trust and is meant to "represent how childhood has changed through the decades but also how, in many ways, the simple pleasures of play have remained the same".
It will stand in the lake, which has recently undergone restoration during which 50,000 cubic metres of silt was removed enabling it to be deepened.
A paddling area, beach and pontoon were also added during the project funded by the park's trust, with support from the Heritage Lottery Fund, the county council and Kettering Borough Council.