Parish council election leaflet calls opponents 'dictatorial and nitpicking'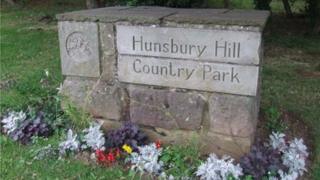 A row has erupted between parish council election candidates amid accusations of "excessive dictatorial and nitpicking behaviour".
Four men standing in West Hunsbury, Northamptonshire used a campaign leaflet to attack George Hook and his family.
In a separate part of the leaflet, they accused a police chief of spending money like "a demented lottery winner".
Mr Hook described the comments as "appalling" and "unusual".
He said: "I am not prepared to stoop to the level of retaliating to this nonsense."
The leaflet, part of a joint campaign by John Smyth, Stephen Tomlinson, Tony Holford and Tom Harris, questioned the spending of Northamptonshire Police and Crime Commissioner Adam Simmonds, who has faced criticism over his large staff and increased costs.
The material criticises Mr Hook, his wife Linda, daughter Sarah Parkin and two other candidates, Peter Spink and John Crouch.
Mrs Hook said: "If people believe what they read, how does it make them think about me?"
The foursome are campaigning under a "minimise council tax and spending" banner, although the council has cash reserves of £50,000 and a £32,000 surplus.
West Hunsbury Parish Council was formed two years ago following a referendum.
'Tax and spend'
The original parish council tax precept raised £75,280, although that has been reduced to £37,500.
The quartet say they are standing because "other candidates have an ambition and enthusiasm for maximising your costs".
They said the parish council should "campaign and ensure other authorities deliver for West Hunsbury" rather than taxing and spending.
Mr Hook said the parish council gives residents an opportunity "to make decisions about their area and to make improvements."
The BBC spoke to Mr Smyth and Mr Tomlinson, but they asked that our report quoted only from the leaflet.
Twelve people are standing for eight parish council seats: Alan Beck, John Crouch, Tom Harris, Brian Hoare, Tony Holford, George Hook, Linda Hook, Richard Matthews, Sarah Parkin, Peter Spink and Stephen Tomlinson.