Corby flooring company denied right to trade mark 'Champagne' products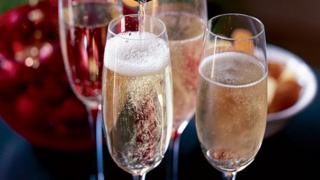 A flooring company has been denied the right to trade mark its range of "Caviar and Champagne" products.
Ball & Young Limited, from Corby, had sought the exclusive right to use a frothy logo featuring a Union Jack.
But the move was opposed by the Comite Interprofessional du vin de Champagne, which represents champagne producers.
Allan James, ruling on behalf of the Registrar of Trade Marks, said Ball & Young was seeking to "take advantage" of the Champagne name.
The Causeway Road based company had wanted to trade mark its Cloud 9 Caviar and Champagne Collection of flooring goods, including a logo boasting the slogan "proudly made in the UK".
It had pointed out "champagne" is also a colour and is commonly used in such phrases as "Champagne Charlie" and "Champagne lifestyle".
'Glittering reputation'
The company insisted Champagne producers should not have "a complete monopoly" over the word's use.
Mr James said they had no right to ride on the coat tails of Champagne's glittering reputation.
He accepted it was a "fanciful proposition" that anyone would be confused between sparkling wine and floor products.
However, the Comite argued the company chose to use the word Champagne "for opportunistic reasons" and to be associated with the "glamour and image of Champagne".
Mr James said the word "Champagne" is a protected designation of origin which is protected under European law.
He concluded the company's plans "would exploit the reputation of Champagne".