Northampton Hospital tweets wish-list to David Cameron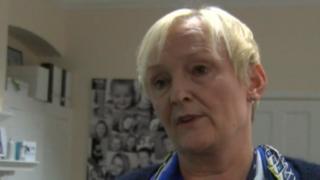 A hospital chief executive has sent an open letter via Twitter to Prime Minister David Cameron calling for more investment.
Northampton General Hospital boss Dr Sonia Swart said NHS staff "have never been under so much pressure" and "many senior staff are very demoralised".
She said the hospital was ageing, with parts dating back to the 18th Century, and a new hospital was "long overdue".
The government has yet to comment on the letter.
Dr Swart, who said she had worked as a hospital doctor for 37 years, said like most hospitals "we are struggling to provide high quality care".
In what she described as a "wish-list", Dr Swart called for "financial support to help us to redevelop our hospital site to provide the modern wards and facilities that our patients and staff deserve".
She said the hospital, which she describes as a "medium sized acute hospital", also needed the "support and expertise to allow us to focus on quality improvement and efficiency to improve the value we bring to patients and the value for money we provide".
"This transformation work needs space and time. This applies within the hospital and in the wider health and social care system," said Dr Swart.
"We need less regulation and a more co-ordinated approach from regulators."
She concluded: "You will no doubt have many advisors and working groups considering the current issues in the NHS. I urge you to ensure that your government's plans for the future focus on the need to support and listen to front staff - this includes managers as well as doctors and nurses."
The new Conservative MP for Northampton South, David Mackintosh, said during the election campaign: "I would be very supportive of a new hospital. I want to see improvements."