Amnesia leaves Wellingborough mum stuck in October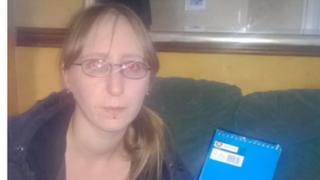 A woman wakes up every morning thinking it is 15 October 2014.
Nikki Pegram, 28, from Wellingborough, suffered seizures and memory loss after falling on a metal pole outside Kettering Hospital nine months ago.
Now she can only hold memories for 15 hours - after that she says they "get fuzzy". She has been diagnosed with a condition called anterograde amnesia.
To get through the day she reads a diary she has kept since her brain lost the ability to make memories.
'Depressed and scared'
Chris Johnston, 39, her partner, said she reads it every morning, start to finish, before she tries to go about her day.
"Some days she's really quite depressed and very scared about it - and some days she is OK ...there are days where she doesn't want to get out of bed."
Mr Johnston said it had been hard for their four-year-old son, who has to be reminded that his mother cannot remember what they did the day before.
Rob Poppleton, a consultant clinical neuropsychologist, explained that Ms Pegram is suffering an unusual form of retrograde amnesia.
He said "It interrupts the ability to learn new information - the here and now memory.
"Memories are not laid down permanently, which is very distressing for the family and the carers."
Mr Johnson said there had been slight improvements. He said that occasionally she wakes up and remembers a dream - which he sees as a sign of hope.
He said "Even though it isn't much it's still something, and you have to hold on to that."