Cow gets head stuck in chair in Northamptonshire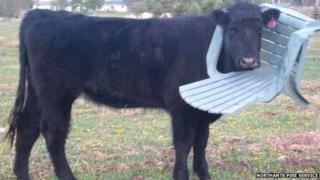 Firefighters were called out to assist a cow after its head became stuck in a plastic chair.
The curious cow became wedged in the garden furniture at about 07:50 BST near Boughton, Northamptonshire.
Officers from Northamptonshire Fire and Rescue Service attended but said the cow managed to get out of its predicament without their help.
It is not known how the garden chair came to be in the field or why the cow put its head through it.