Akinfenwa's Northampton hat-trick shirt bidder 'cannot pay'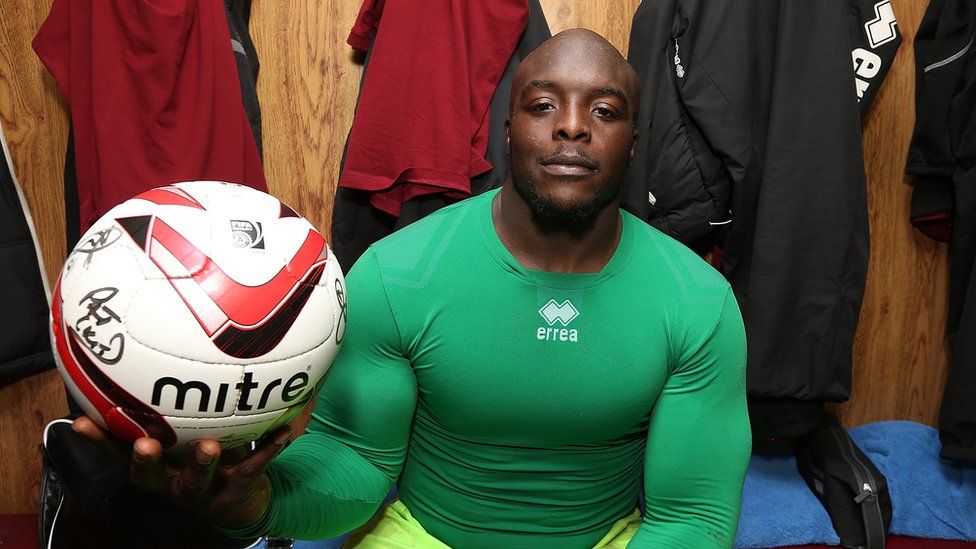 A football fans' trust trying to save its club from a winding-up petition is down £7,500 after the successful bidder for Adebayo Akinfenwa's hat-trick shirt said he could not pay.
The Northampton Town Supporters Trust has been auctioning off club memorabilia to try to raise £100,000.
The online auction has so far raised £40,000 towards costs.
Ben Trasler, a volunteer from the trust, said the winning bidder told him his company had gone into liquidation the day before the auction ended so was unable to pay.
"Having done a bit of investigative work, it appears an unlikely story," he said.
"He didn't strike me as being consistent with someone who has over £7,500 available."
Mr Trasler said he was "sceptical" that the buyer would pay as the auction price rose through thousands of pounds.
"It's disappointing because there's a lot we could do with that money," he said. "We're deciding whether to relist the item on eBay."
The club also owes Northampton Borough Council £10.25m, which was loaned to redevelop Sixfields Stadium.
Related Internet Links
The BBC is not responsible for the content of external sites.