Gangs behind rise in gun crime in Northamptonshire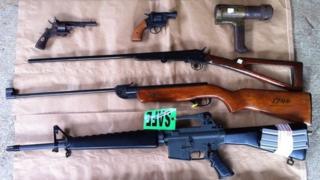 Gangs, turf warfare and drugs have been blamed for the growing number of firearms in Northamptonshire.
In the last five years county officers responded to more than 1,100 incidents involving a firearm and seized more than 2,700 of the weapons.
Police said guns have become more available online and there are a number of gangs using guns in the county.
The force said it is currently working hard in towns like Northampton and Wellingborough to reduce gang culture.
'Protect turf'
A Freedom of Information request submitted by the BBC showed that the number of incidents police attended that involved a firearm was increasing year on year.
In 2013 there were 181 call outs where a gun was present. That increased to 229 in 2014 and went up to 275 last year.
The figures also showed a marked rise in the number of firearms in towns like Wellingborough and Rushden.
Adrian Tudway, head of operations at Crimestoppers, said gun crime is on the rise with gangs using them to "protect their turf and commodities".
He said: "It's very worrying. Anyone in the community should be worried that there are more guns around and that they are more accessible."
Northamptonshire Police have drafted in national experts on guns and gangs to help officers divert youngsters away from gang culture.
Supt Steve Langley said: "We are holding a series of three workshops in Wellingborough, bringing in national experts on working with gangs, who will be sharing their expertise with more than 300 delegates from the police and partner agencies."
He said there was also a "long term multi agency action plan" in place to reduce the number of guns in use.