Adele 'doppelganger' inundated with messages after selfie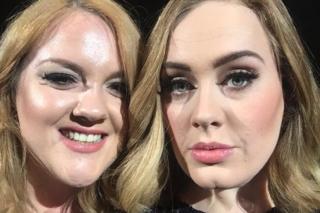 An Adele "doppelganger" who posed on stage for a selfie with the singer says she has been inundated with messages from fan groups around the globe.
Emily Bamforth, 27, from Northampton, said her "Instagram had gone insane" after her moment of fame on Tuesday.
Adele, also 27, got her up on stage after Ms Bamforth's fiancé said people claimed she looked like the singer.
She returned to see Adele perform again in Birmingham the following night - but stayed "up in the Gods" that time.
Follow updates on this story and other news from Northamptonshire
"I've had loads of Adele fan club people tagging me on Instagram, and people congratulating me on the selfie," she told the BBC.
Her photos of her moment in the spotlight have garnered hundreds of likes on Instagram and retweets on Twitter, and have been shared by fan groups in Ireland, Australia and California.
"The moment itself is very hard to describe - at the end, when I was leaving the stage, she called me her doppelganger.
"As I left I hugged her and said I wish she could experience her own music as we do as fans. She's a living legend."
Ms Bamforth said the star had to take the selfie as she was "shaking with nerves" and could not keep the camera steady.
"She said to me, 'let's pull the same pose'. I tried to, but I was beaming like a cheshire cat."
On Wednesday, Adele received her first Bafta nomination for the TV special Adele At The BBC.