Pit bull killed baby grand daughter, woman admits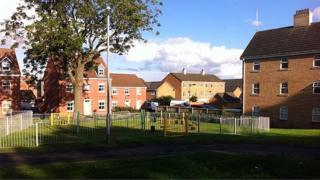 A woman has admitted being in charge of a banned breed of dog which killed her six-month-old granddaughter.
Susan Aucott, 55, of Alfred Street, Northampton was looking after Molly-Mae Wotherspoon when the American pit bull called Bruiser attacked the baby.
Northampton Crown Court heard her admit to being in charge of a dangerously out of control dog resulting in death.
Molly-Mae's mother Claire Riley 23, of Merrydale Square, Northampton denied the same charge.
Aucott is due to be sentenced after the trial of Ms Riley.
Molly-Mae died on 3 October 2014 following the attack at her mother's former home in Morning Star Road, Daventry.
She had suffered severe blood loss from head wounds.
The dog was put down at the scene.