Dunelm suspect 'stuffed stolen Venetian blind in trousers'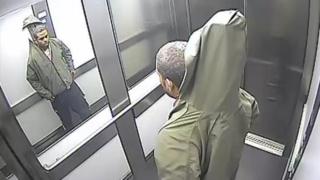 A would-be thief has been caught on camera apparently trying to make off with a Venetian blind - by stuffing it down one trouser leg and up his jacket.
CCTV images show a man in the lift of a branch of Dunelm Mill attempting to conceal the stolen item.
Staff from the shop in Nene Valley Retail Park, Northampton, followed the alleged shoplifter to a nearby canal path, where the blind was abandoned.
Northamptonshire Police is urging those with information to come forward.
A spokesman said: "A man entered the store and allegedly concealed a Venetian blind down one trouser leg and up the back of his jacket.
"He then left the store making no attempt to pay for the item."