Northampton council leader's business owed HMRC thousands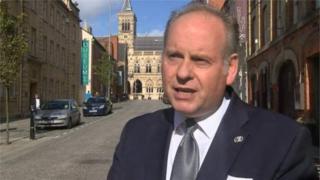 A newly appointed council leader tasked with recovering a £10m loan saw his own company liquidated two years ago.
Conservative Jonathan Nunn's firm Individual Team Performance Limited had owed the Inland Revenue more than £20,000 when it folded.
One of Mr Nunn's first tasks as Northampton Borough Council leader will be to oversee attempts to recoup £10m loaned to Northampton Town.
He said his business had failed due to the "change in the economy".
Responding to criticism on Twitter, Mr Nunn said his experience meant he could look struggling business owners "in the eye and honestly tell them, I know how you feel."
Reports at Companies House show a liquidator was appointed in April 2014 to wind-up Individual Team Performance - which had provided business training for more than 12 years.
For more on this story and the latest news in Northamptonshire visit our live page
The company owed more than £20,000 to HM Revenue & Customs.
The liquidator criticised Mr Nunn for "repeatedly failing to provide evidence of his financial worth" during the winding-up process.
'Enormous personal stress'
Mr Nunn, who took the role of leader after Mary Markham resigned, said his first feeling had been to "find a way to repay" the debt but "that proved not to be possible".
"I provided every piece of information required - which actually didn't paint a pretty picture.
"You don't ever get to the stage of thinking you have to liquidate a business until things are pretty awful.
"This came about as a result of enormous personal stress and financial difficulty."
Northampton Borough Council is currently trying to claw back £10.25m loaned to Northampton Town.
The money was loaned to redevelop the Cobblers' Sixfields stadium, but has seemingly vanished.
Mr Nunn said his first call as leader had been to auditor Price Waterhouse Cooper, which is heading up the council's internal investigation into the affair.
He added: "I've had my ups and downs, but I've made all those mistakes and had all those highs in Northampton."
Last week, Mr Nunn spoke about his conviction for actual bodily harm in 2004, when he attacked his then wife, saying "there isn't a day goes past when I don't reflect on that".