Carlsberg brewery: Post-mortem examination due on dead worker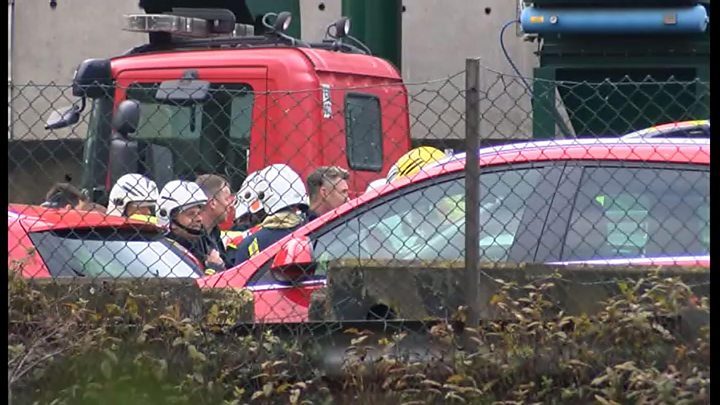 A post-mortem examination is due to be held on a Carlsberg brewery worker who died following an ammonia leak.
Fifty firefighters and a number of ambulances were called to the plant in Northampton at 12:30 GMT on Wednesday.
The man, in his 40s, was confirmed dead on Wednesday evening. A second man, aged 51, remains in hospital in a serious but stable condition.
Twenty-one others, including brewery workers and emergency crews members, have been discharged from hospital.
Formal identification of the victim has yet to take place, Northamptonshire Police said. A report has been prepared for the coroner.
More on this story and others from Northamptonshire
The factory remains cordoned off, but emergency services said there is no danger to the public.
Darren Dovey, Northamptonshire's chief fire officer, said the Health and Safety Executive (HSE) had asked fire crews to be redeployed to the site on Thursday to make sure the gas had dissipated and "all of the valves have been completely isolated".
Julian Momen, chief executive of Carlsberg UK, told BBC Look East he was "deeply saddened" by the death and said production at the brewery had been halted - with no timescale as to when it will be running again.
He confirmed ammonia gas was used as refrigerant to cool down the site and the production process.
He said a counsellor had been on site to help colleagues, adding the support they had given each other was "incredible".
What is ammonia?
A colourless, reactive gas that is lighter than air (approximately half as heavy), which dissolves in water
Has a strong odour similar to urine and is an important industrial chemical, used to make fertilisers and plastics among other items
In the home, it is used in certain cleaning and gardening products
High levels of ammonia may cause burns and swelling in the airways, lung damage and can be fatal
Source: Public Health England
Police said the Health and Safety Executive (HSE) investigation is "likely to continue over the coming weeks".
Northampton South MP David Mackintosh tweeted: "Awful news to hear that someone died at the incident at Carlsberg. My thoughts and prayers with their family and all those affected."