'Work in libraries' Northamptonshire council staff told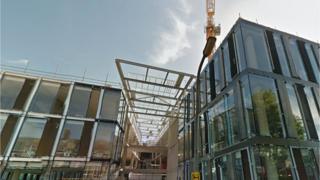 Staff at a county council have been told to work either in a library or from home because work to their new headquarters has been delayed.
Northamptonshire County Council's current HQ has been sold.
Workers, including social workers, must move out by the end of March but cannot move into the new Angel Square complex in Northampton until a month later.
Unison said it was concerned there could be confidentiality issues with staff updating files in libraries.
Live: For more on this and other Northamptonshire news stories
The Angel Square complex was originally expected to be ready at the end of 2016.
But the council now says it will not be able to move all staff over until the end of April.
'No easy task'
It is not clear how many of the 1,600 staff in the existing headquarters, John Dryden House, will be affected.
Alvarez Wilkinson, of Unison, said: "We have had advice that social workers can pop into libraries to update their files.
"We are concerned for our staff - such as the social workers updating their files in libraries - about confidentiality."
A spokesman for the council said: "Bringing all staff together into 1 Angel Square will be of huge benefit to the town centre and means our staff can enjoy modern working conditions in a purpose built headquarters.
"Moving more than 2,000 staff out of 12 buildings into the new building is no easy task."