PC Declan Gabriel raped teen while on duty, court hears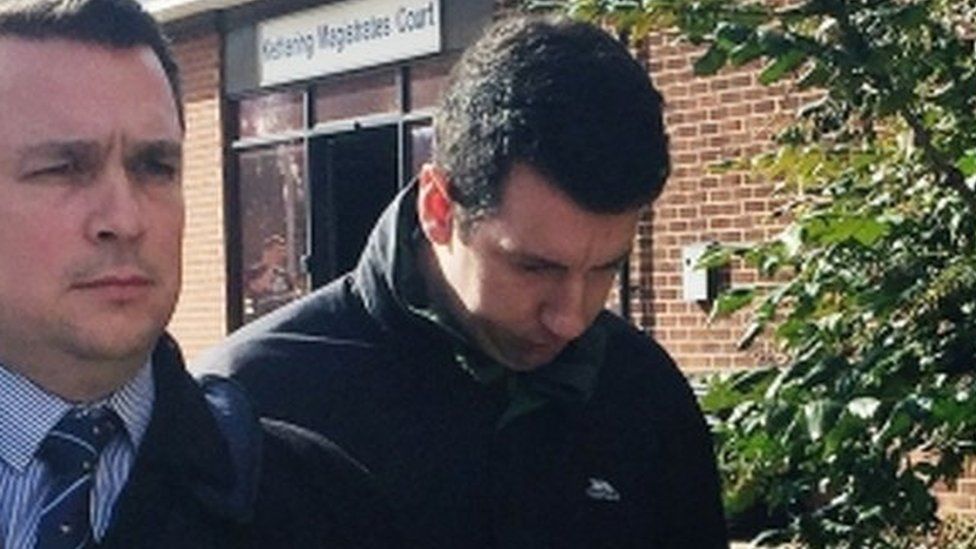 A police constable has appeared in court accused of raping a 17-year-old girl while on duty.
PC Declan Gabriel, 28, is also accused of two counts of sexual assault and misconduct in public office.
A jury at Northampton Crown Court heard he forced the girl into an oral sex act in Northampton on 21 September, 2015.
PC Gabriel denies all the charges, claiming the teenager sexually assaulted him.
The court was told the Northamptonshire Police officer was on duty in a single-crewed vehicle when he attended an incident in Hunsbury, Northampton, in the early hours.
Prosecutor Matthew Lowe said the alleged victim had been thrown out of home by her mother and spent two hours with PC Gabriel, apparently in an attempt to find her somewhere to stay.
Mr Lowe said PC Gabriel "turned the conversation to sexual matters" and "bragged" of having slept with someone 10 minutes after meeting her.
He said PC Gabriel tried to contact one of the girl's friends using his phone, but received no answer.
After stopping at Mereway Police Station to leave the girl's mobile phone on charge, they drove to the friends' address but did not stop as no lights were on.
Instead, the jury heard, PC Gabriel pulled into a lorry lay-by and sexually assaulted her.
They drove back to her friends' house, but again left with no attempt to knock on the door before driving to Northampton Crematorium.
PC Gabriel is alleged to have sexually assaulted her again, before forcing her to perform an oral sex act.
When interviewed by police, the girl said she had "felt freaked out".
PC Gabriel said the girl had sexually assaulted him at the crematorium while he was adjusting his underwear, something Mr Lowe called "a fanciful, ludicrous account".
Related Internet Links
The BBC is not responsible for the content of external sites.