Police chief scraps sale of Northamptonshire Police headquarters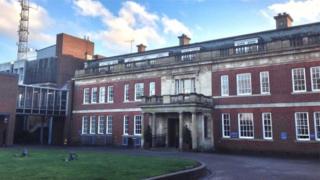 Plans to relocate a police headquarters to save more than £40m have been scrapped.
Police and Crime Commissioner (PCC) Stephen Mold announced Northamptonshire Police would not be leaving Wootton Hall.
Plans for a school on the site will proceed and a new proposal will see the creation of a joint police and fire service headquarters, he said.
The proposal had been one of the flagship policies of his predecessor.
Former PCC Adam Simmonds signed a deal to sell the land before he left office.
He intended to replace the headquarters with Wootton Park School - a free school offering a specialised policing and public service-focussed curriculum.
However, Mr Mold's decision is the latest in a series of moves which has seen him reverse the plans of his predecessor.
On Tuesday, he revealed he was in advanced talks with the Education Funding Agency to revise the terms of the sale of part of Wootton Hall.
Mr Mold said the force intends to create a new headquarters but no final decision had been taken as to whether this will involve revamping the current building or constructing new ones.
He said a joint headquarters would "lead to significant savings of public finances".
Chief Constable of Northamptonshire Police, Simon Edens, said: "The PCC has promised the investment needed to develop the Wootton Hall site.
"This option was never offered by the previous PCC and it potentially addresses one of the concerns I had about us staying here."
Chief Fire Officer, Darren Dovey, welcomed the move saying it provided "clarity and stability".