Leg amputee's body found in Northampton's River Nene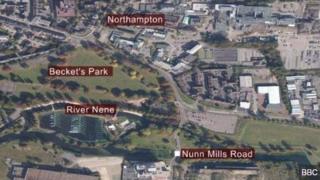 The body of a man with both legs amputated was found in a river.
A passer-by spotted the corpse close to a River Nene sluice gate in Northampton at about 15:00 on Monday.
The man - who was white, in his 50s or 60s and wearing a rugby shirt - was found near to the Avon headquarters on Nunn Mills Road.
Det Sgt Hayley Thurston, of Northamptonshire Police, said: "We are keeping an open mind, but there is nothing to indicate foul play."
For more on this and other stories, visit BBC Local Live: Northamptonshire
Police think he may have been watching the England-Scotland rugby union game on Saturday evening.
Det Sgt Thurston added: "He had a key in his pocket and was wearing a Six Nations rugby shirt, so it's possible he may have lived nearby and had been out watching the England game.
"Clearly, we are hoping that from this description someone may know this gentleman as a neighbour or friend and get in touch."